A Serene Poolside Experience
Within a tranquil, lushly landscaped courtyard, our pool area beckons guests who are ready to relax, unwind, and be pampered. Slip under a sun umbrella with your favorite book, swim, and savor the warm Napa Valley sun, or enjoy a private spa treatment beside the pool area.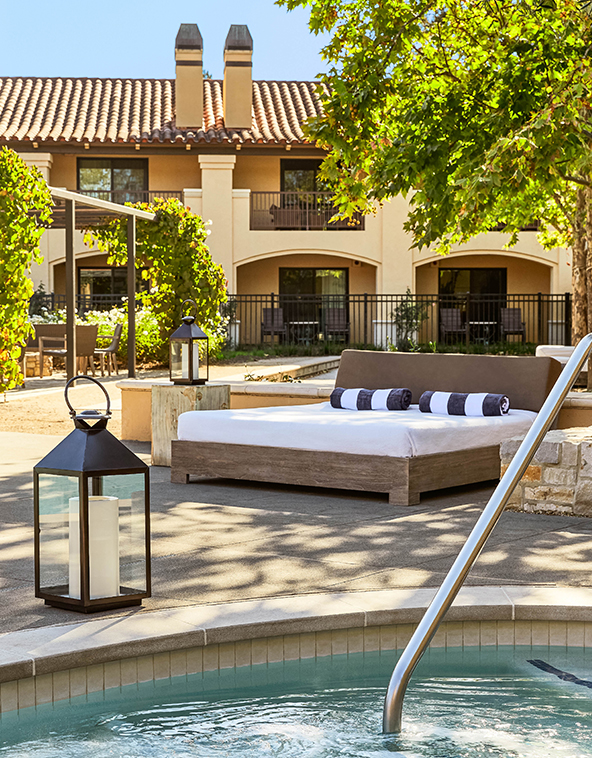 Pool & Hot Tub
Hours: 7 am – 10 pm
Consider it paradise found in our pool area tucked within a lushly landscaped courtyard. At 3 feet 6 inches, our pool provides even more standing space for afternoons spent relaxing in the water, while still deep enough for those morning laps.
Relax on a comfortable lounge or shaded daybed while our staff serves a selection of refreshing beverages, wines by the glass, and local brews. To pair with your drinks, we also feature a selection of handmade snacks. And when the sun sets, head over to the courtyard fire pits, the perfect place for a glass of wine, for a blissful end to your day in Yountville.
Hours are subject to change.
spa treatments
At Napa Valley Lodge, our unique spa experience provides perfect solace and relaxation. Enjoy a decadent spa service in our poolside treatment room. Our Yountville spa staff have designed a variety of treatments—from massages to facials to body treatments—using centuries-old healing techniques coupled with aromas and oils reminiscent of the Napa Valley.
CONTACT US:
Phone: (707) 346-4076
Email: nvlodge@spa-reservation.com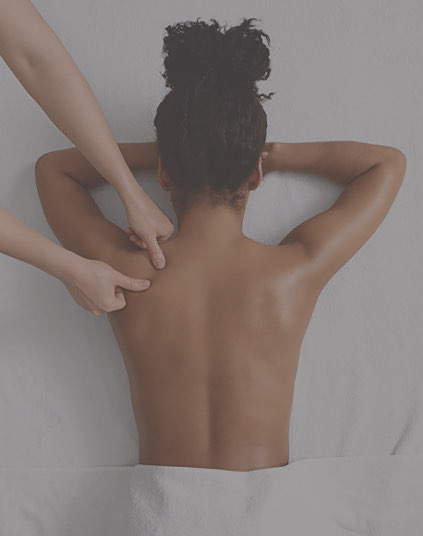 Specialty Massages
FABULOUS FACIAL & BODY MASSAGE
90 MIN. – $250
Cleanse, exfoliate, tone, moisturize, nourish, and protect with antioxidant grape seed products that protect the skin from free radical damage, giving you a radiant glow. Full body massage.
NVL'S LAVENDER INDULGENCE
120 MIN. – $330
Body exfoliation will stimulate lymph flow and reveals a fresh glow. Local estate-grown lavender hydrosol and body balm from Matanzas Creek drenches the skin during the full body massage and facial treatment.
ROSE BODY RENEWAL
120 MIN. – $330
Your body and skin are renewed with this rose petal body butter hydration treatment that will delight the senses. Your session will include a full body massage, revitalizing foot scrub with reflexology, and a refreshing mini-facial.
TOTAL REJUVENATION
150 MIN. - $400
Two and a half hours of total bliss! This package includes a mini-facial, foot and scalp treatment and a warm stone massage.
FACIALS & BODY TREATMENTS
THE LODGE MASSAGE
60 MIN. - $160 | 90 MIN. - $230
This flowing, nurturing massage combined with a selection of wellness based essential oils satisfies your desired results leaving your body nourished and renewed.
DEEP TOUCH BODYWORK
60 MIN. - $180 | 90 MIN. - $250
This is a penetrating massage for those who like a deeper touch that targets specific tight spots.
THE REPLENISHER
60 MIN. - $160 | 90 MIN. - $230
Rosemary and peppermint essential oils are blended to help combat jet lag or tiredness. Special attention is given to revitalizing the legs and feet.
CBD SOOTHER
60 MIN. - $180 | 90 MIN. - $250
Therapeutic massage session uses CBD oil to address inflammation in muscles and joints, offering temporary relief to chronic pain.
WARM STONE INFUSION
90 MIN. - $260
This treatment is a relaxing combination of hands-on massage intermingled with the application of warm, smooth, river stones customized with a blend of aromatherapy oils.
MOM-2-BE MASSAGE
60 MIN. – $160
Special care and cushions are provided to our pregnant guests in their second or third trimester. We use an organic oil blend for moms-to-be, created to lift the spirits and to enhance the elasticity of skin during pregnancy.
Fitness Room
Hours: 7 am – 10 pm
Our poolside fitness room includes a Peloton bike offering live and on-demand spin classes, a treadmill, an elliptical trainer, and a recumbent bike, as well as free weights from 3 to 50 lbs. with an adjustable flat/incline bench.
Note: Hours are subject to change.
Bocce Ball
We think it's the small things that make a vacation truly special. Enjoy a game of bocce ball on our court just off the pool area. It's a wonderful activity at the end of the day while watching the sunset, wine glass in hand.