benefits of booking directly
welcome to
napa valley lodge
With a coveted Yountville location and in the heart of Napa Valley, we welcome you to an idyllic wine country retreat with complimentary amenities and thoughtful service. Adjacent to renowned vineyards, the Lodge is just steps away from the wine country's finest restaurants and wine tasting rooms. Whether you come to discover Napa's next cult winery, experience the region's culinary excellence, or to just unwind by the pool, you will be well cared for at the Napa Valley Lodge. Known for customizing experiences, our well connected concierge team will be delighted to serve up intimate experiences that are off the beaten path.
All the Extras Without the Extra
Complimentary continental breakfast buffet
Complimentary parking & WiFi
Complimentary wine tasting Thursday & Friday
Coffee, tea & fresh cookies
Bikes, bocce ball, & firepits
Walking distance to wine tasting rooms & shopping
Super Boutique Hotel

Great boutique hotel in Yountville. Very convenient location - close to great dining and so many wonderful wineries. Staff is super friendly and helpful. The breakfast buffet has wonderful selections and having a fireplace in our room was wonderful on the cool, wet February evenings.

- Dreamer14872278435

February 15, 2019

Anniversary Celebration

This was our 35th Wedding Anniversary and the hotel came through in making it memorable. Everything was great, the room, the delightful dessert that was left in our room along with the bottle of bubbles. Thanks and we'll see you again next year!

- Connector17944571700

February 12, 2019

Gem in Yountville and a good value

Many of the high-end ammenties of other properties in Yountville but with a good price. Large rooms and generous bathrooms. Breakfast buffet was excellent and we enjoyed the cookie on our pillow each night!

- katiemarin79

February 5, 2019

Exactly what we were looking for.

Our vision of visiting Napa included staying in a picturesque, smaller hotel with parking and breakfast included. A friend recommended Napa Valley Lodge in Yountville and it was perfect. The continental breakfast was great and more than we expected. The freshly baked cookies in the afternoon a nice touch. We will definitely stay there again if we return.

- Sightseer47063921015

January 29, 2019

wonderful stay

it was my first time at Napa Lodge and would come back. The room was beautiful, great bedding, great bathroom, and the attention to detail was there. Very close to restaurants in Yountville. I would recommend it

- Camper31493786546

January 28, 2019
Reasons to Stay
Tucked among the vineyards, we're a short walk from downtown Yountville
1 | A coveted Yountville location & vineyard setting
All the extra touches of a four-star experience-without a resort fee.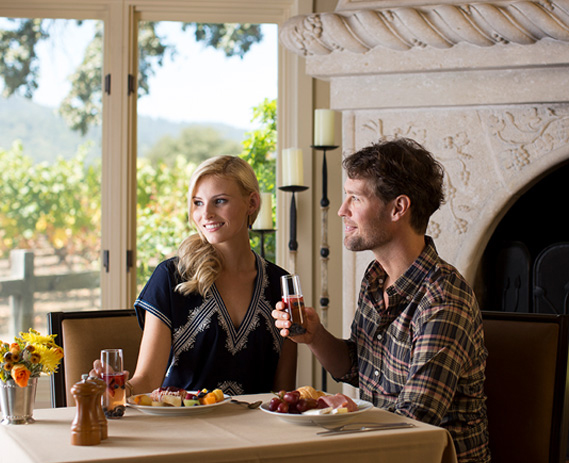 2 | All the extra, without the extra
Our well-connected concierge & lodge team serve up memorable experiences
3 | Customized experiences
Our guest rooms offer private verandas and thoughtful amenities
4 | Residential atmosphere & amenities
Locally owned, we offer an unpretentious, warm and inviting atmosphere
5 | Locally owned & operated
We pride ourselves on building lasting one-on-one relationships with our guests
6 | Guest connections
Learn More
Featured Special
V.I.P. Winery Tour Package
Explore the beautiful Napa Valley with someone who knows it best. One of our best-selling Napa Valley hotel packages.
Learn More
our yountville favorites
R+D Kitchen -
1 min. walk
French Laundry -
5 min. walk
Hope and Grace Wines -
8 min. walk
Bouchon Bakery -
9 min. walk
V Marketplace -
10 min. walk
View Map