yountville attractions & more
Our love for Yountville runs deep, so it's always a pleasure to share our knowledge with our guests. From hotel happenings to local off-the-beaten-path Yountville attractions, here are our curated suggestions and recommendations on how to get the most out of your stay.
Unwinding by the Pool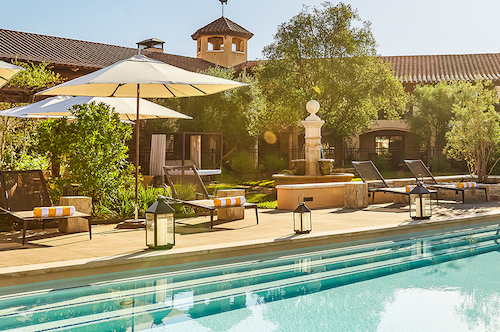 The town of Yountville and the Napa Valley region as a whole have a lot to offer any adventurous traveler. Some days, though—especially those hot summer days—you just want to relax and do as little as possible, preferably in a gorgeous, serene setting. For those days, we recommend stretching out under the sun by the Napa Valley Lodge's elegant pool, ensconced in our impeccably manicured courtyard. Canopied daybeds are available for those who prefer to lounge in the shade, while dedicated poolside service provides wine, beer, and snacks to guests from Memorial Day Weekend to Labor Day Weekend. Stroll over to the nearby bocce ball court for an invigorating match, or plunge to even deeper levels of relaxation with a massage, facial, or body wrap in our private poolside spa room. Finally, as the night falls and temperatures cool, you can take a dip in the hot tub or settle down by one of the courtyard firepits to sip an exquisite glass of California wine.
Read Other Posts