yountville attractions & more
Our love for Yountville runs deep, so it's always a pleasure to share our knowledge with our guests. From hotel happenings to local off-the-beaten-path Yountville attractions, here are our curated suggestions and recommendations on how to get the most out of your stay.
Poolside in the Valley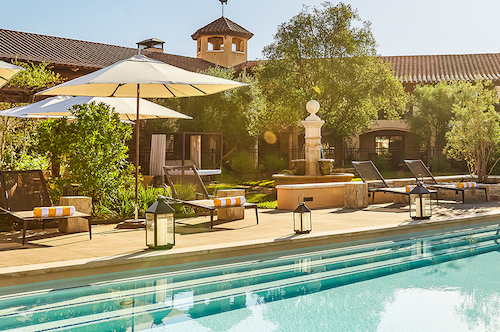 Wrap up your Napa Valley stay with a relaxing lounge day by the pool in the summer heat. The dry, warm air is perfect for unwinding poolside with a crisp glass of wine in hand! Our seasonal poolside service runs from Memorial Day until the beginning of October. While playing around the Valley is nice, it is still necessary to squeeze in a day of rest — downtime should be required for every vacation.
While enjoying the weather, you can switch between the refreshing swimming pool or soothing jacuzzi tub — a perfectly paired combo. Munch on healthy snacks and sneak off for a round of Bocce ball on our court, just steps away from the refreshing crystal clear water. There is no wrong way to experience Napa, but in our opinion you cannot spend a summer in Napa Valley without a day full of sunshine and swimming!
Read Other Posts