Explore Wine Country
Explore The California Wine Country
From nearby wineries and tasting rooms to top-rated restaurants, it's time to tap into the tastes of Yountville. Explore the boutique shops and discover one-of-a-kind finds in St. Helena, soak in the famous mineral hot springs of Calistoga, or hop in the car to take a scenic drive along the Silverado Trail, Napa Valley's "other" scenic highway. And after a day of sightseeing, head back to savor the quieter side of the Napa Valley here at the Napa Valley Lodge.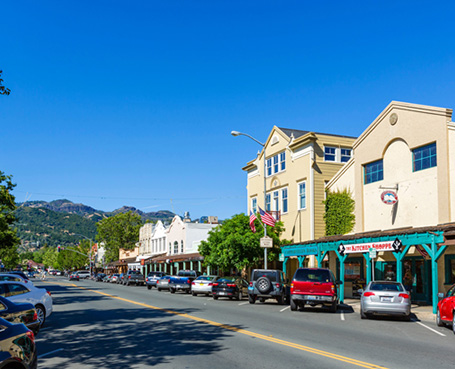 Calistoga
Located at the very top of the Napa Valley, Calistoga is the area of the valley most famous for its hot springs resorts and mud baths, due to its fascinating underground geology. It's a small-town setting that is sophisticated, yet friendly with deep historic roots.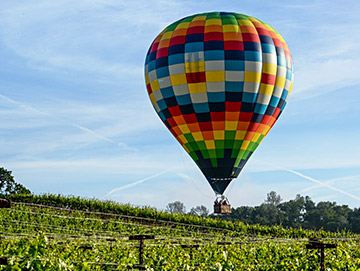 Much of the region's history is still alive in Calistoga, from authentic Victorian architecture to the city's famous mineral hot springs. In fact, its historic roots are so intact that the National Trust for Historic Preservation named Calistoga a "Distinctive Destination." It recognizes Calistoga as one of an elite group of American communities dedicated to preserving its town's character and sense of place.
Calistoga activities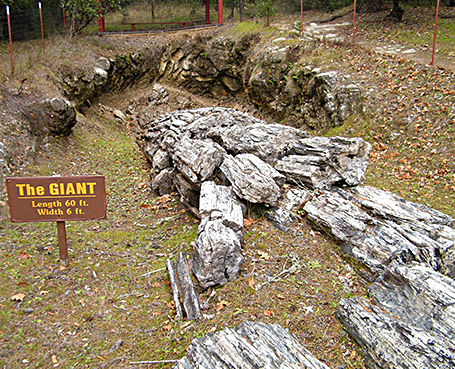 Petrified Forest
Some three million years ago, a volcanic eruption turned a forest of giant redwoods into solid quartz and stone — now called the Petrified Forest. Discovered in 1857, these preserved trees offer insight into geological formations and give visitors a glimpse of a prehistoric world. You can also take a guided meadow walk to learn more about the volcanic activity, among Oak, Douglas Fir, Madrone, Manzanita trees, wildflowers, and views of Mount St. Helena. In 1880, Robert Louis Stevenson wrote about his visit here in his book, The Silverado Squatters.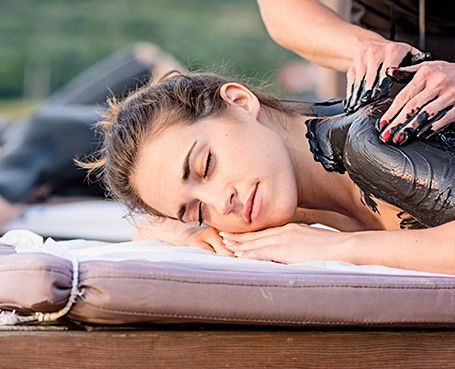 Mud Baths
The geyser is an amazing sight, but it isn't the only show in town. For centuries, humans have made pilgrimages to natural hot springs and mud baths in the area, seeking the curative properties of heated water, minerals and mud. Much of the mud is infused with volcanic ash, said to be particularly effective in pulling toxins from the body. The Wappo Indians, living in the northern valley 8,000 years ago, bathed in the warm sulfur waters and may have used mud for its restorative values as well. The first Europeans in the area—the Spanish—did the same more than 300 years ago and called the area "Agua Caliente." Resorts began promoting mineral and mud baths in Calistoga more than a century and a half ago. Now, more than two dozen spas and hot springs dot the landscape around Calistoga.
Downtown Napa
The city of Napa is located along the Napa River at the far southern end of the valley, and is the only true "city" in the Napa Valley. Napa is home to a bounty of beautiful Victorian-era homes, the historic Napa mill, wine tasting rooms, historical buildings and the Oxbow Market.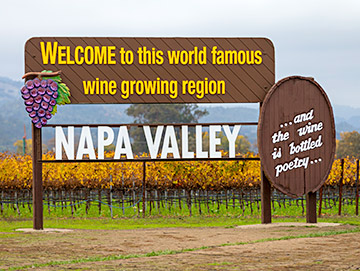 The city of Napa was first established alongside the Napa River back in 1847 and is the only true "city" in the Napa Valley. At the far southern end of the valley, Napa is home to a bounty of beautiful Victorian-era homes and commercial buildings, historical buildings and the new Oxbow Market.
Along downtown Napa's streets can be found places where history was made. In many ways, its historical sites reflect the history of California itself. The Bear Flag revolt that led to California becoming part of the U.S. began just a few miles to the north in 1846. The City was laid out by Nathan Coombs in 1848, and grew tremendously through the gold rush of 1849, and the later silver and mercury mining heydays. Today you can walk the same streets where 49ers, Chinese laborers, lumber barons, and early winemaking pioneers began building the City of Napa more than 150 years ago, and you will find many treasured historic structures still in use.
The Historic Napa Mill features award-winning restaurants, retail shops and a day spa. The well-preserved historic elements of the riverfront property provide the perfect setting for a lazy afternoon visit. The Historic Napa Mill's Riverbed Performance Plaza provides an exciting outdoor backdrop for art, theater, wine, food, and music festivals. The Mill is home to some of the most unique shopping and dining in the Napa Valley. Whether seeking a casual breakfast or a four-course feast, diners flock to the restaurants calling the Historic Napa Mill home.
Napa Valley Activities
Napa's Wine Tasting Rooms
Downtown Napa is home to a number of wonderful tasting rooms that offer unique experiences. A favorite is the famous Bounty Hunter, where guests can enjoy a vast list of fine wines by the glass. Indulge in the ultimate pairing experience and order a charcuterie plate or a bowl of their house-marinated olives while you're there.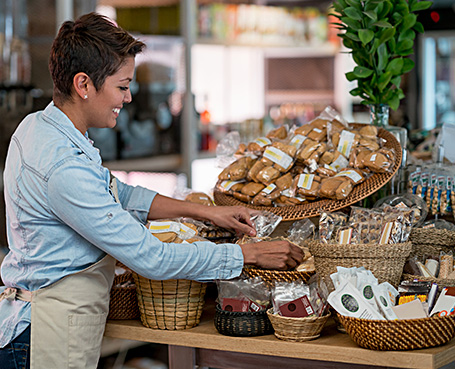 Oxbow Market
Oxbow Market is a unique hub of local food vendors, artisan cafes, and organic produce from local farms. The marketplace overlooks the Napa River, where you can sit outside on their scenic deck while enjoying a glass of wine or artisan cheese plate with friends.
Read More
Restaurants, pizzerias, coffee bars, cheese shops, and a produce market all share a roof, in an airy, open space that lets you walk between one stall and another, glass of wine in hand. Between The Fatted Calf shop (the charcuterie maker's first brick-and-mortar location), Model Bakery, Oxbow Produce and Grocery, and Oxbow Cheese Merchant. It's also an equally fine place to have a meal, whether at one stand or many. Local favorites like Hog Island Oyster Company and Gott's Roadside (the hamburger stand formerly known as Taylor's Automatic Refresher) share space with other restaurants and food stands.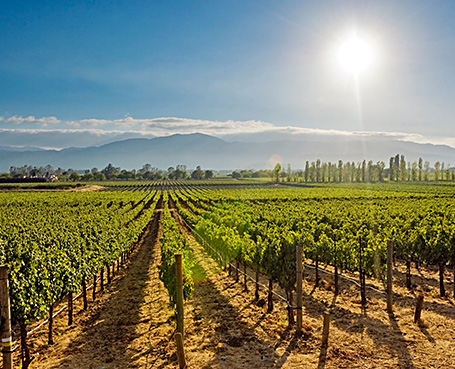 Silverado Trail
The Silverado Trail was originally built in the 1850s and today is a highway that traverses the eastern side of Napa Valley. The highway (it's not actually a hiking or riding trail) follows the base of the Eastern hillside of the valley from end to end – 26 miles total. Today, the Silverado Trail is hailed as Napa Valley's most scenic route, and along with some of the valley's breathtaking views, features some of the most popular wineries in the area.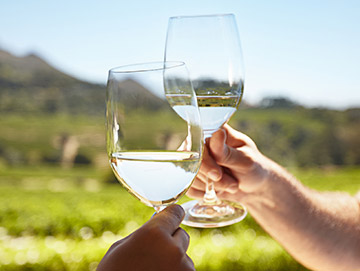 To best enjoy the Silverado Trail, start on the south end by taking a tour of the Del Dotto majestic, historic caves. In 1885, Chinese laborers dug this 350 foot wine cave, using only picks and shovels. This hand-dug cave and winery was one of the first wineries to appear in the Napa Valley, and is currently one of only six still in existence. A bit further up the trail, Pine Ridge Winery also offers caves tours while sampling some of their Stag's Leap District wines. Next, stop by ZD Wines known for their Chardonnay and Pinot Noir. Right next door you can visit Mumm Winery, where you can sip sparkling wines while taking in their fine art photography gallery. Moving on to St. Helena, pull in to the famous Duckhorn Winery, where you can savor a sumptuous merlot if you're a fan of reds, or sip a refreshing glass of sauvignon blanc if you prefer whites. Finally, end your day at the legendary Chateau Montelena in Calistoga. Here, you can appreciate a glass of chardonnay while strolling through their beautiful Chinese gardens.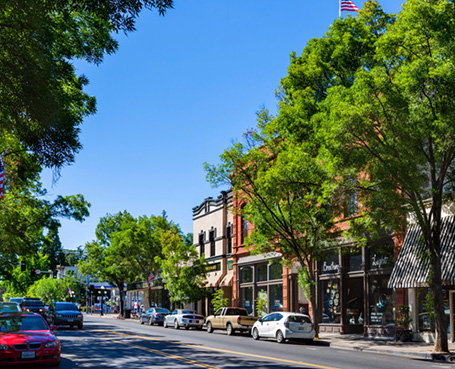 St. Helena
Along the two square blocks of St. Helena's historic Main Street, you'll find some of the most charming shops in the entire valley. The downtown shopping area is a trove of authentic, one-of-a-kind items, whether crafted locally or acquired from afar by their discerning shop owners. You'll find a frequently refreshed stock of high-quality art, jewelry, men and women's clothing, kids' toys, specialty food, home furnishings and gifts. With nearly perennial sunshine and a bevy of food and dining options along the way, it's easy to spend an entire day exploring the shops of downtown St. Helena.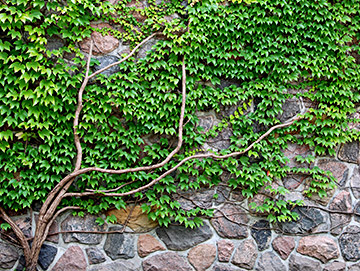 Learning about the history of St. Helena sheds some light on this unique Napa Valley destination, known both for its gorgeous countryside and charming small-town feel. St. Helena remains strikingly pristine. Part of that can be explained geographically; in the days of stagecoaches and bad roads, the valley was relatively remote and hard to reach through the hills. But in modern times, preserving St. Helena's character and countryside was a conscious act. In the 1960s, Napa County adopted one of the first major agricultural land protection policies in the United States, setting in motion a tradition of preservation. Today, that fierce love of the land and strong sense of community live on. You can see it in historic downtown, where multi-generational family businesses still thrive, as well as in the vineyards themselves, which remain to this day 95% family-owned.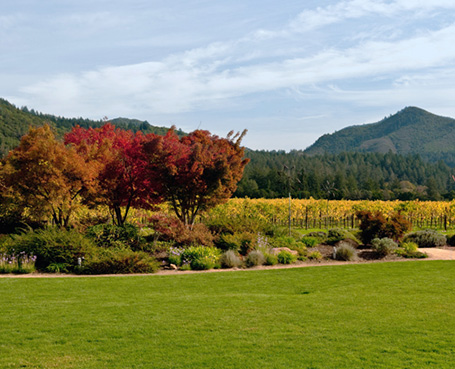 Yountville
The small town of Yountville, a hamlet located between Napa and St. Helena, is located right off Route 29, the main route that runs through Napa Valley. The town is less than a square mile in size and populated with a variety of restaurants, tasting rooms and shops. It is sophisticated, yet restful, and has the greatest concentration of Michelin Star restaurants per capita of any town in the world, offering visitors the chance to enjoy unrivaled cuisine. Because of its small size, visitors can park and never need their car. You can walk or bike to almost everything or take the complimentary town trolley.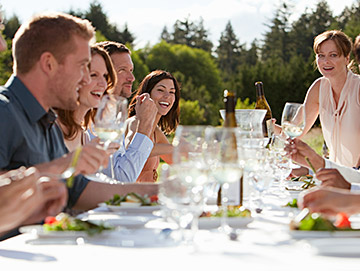 A few miles in all directions are several hundred wineries that offer some of the best tasting experiences worldwide. In addition, Yountville is home to a number of great tasting rooms that are just within a stone's throw of the Napa Valley Lodge. Among many of the notable wineries and tasting rooms to visit are: Domaine Chandon, Ma(i)sonry, Hope and Grace Winery, Jessup Cellars, Girard Winery, Somerston Wine Co, and Cornerstone Cellars.
For history buffs, the town's name is derived from the name of early pioneer George Calvert Yount. Mr. Yount was considered responsible for establishing the first vineyard in the Napa Valley in 1838. And you thought Napa Valley has only been making wine for a few decades…
Sign Up for Specials
Napa Valley Lodge collects personal information from consumers. You can learn more about what personal information is collected and how it is used by viewing Napa Valley Lodge's privacy policy at: https://www.napavalleylodge.com/privacy-policy